This post may contain affiliate sales links. Please read my disclosure policy.
Learn how to avoid common cheesecake mistakes and make a perfect cheesecake! Make the best cheesecake of your life by following my 10 simple tricks.
Looking for a recipe to try? Try this easy classic cheesecake – it's the best recipe for first time cheesecake makers!
Yes, You Can Make Cheesecake!
Cheesecakes can be intimidating to make, but once you've made a homemade cheesecake you'll see that it's really not scary at all – just maybe a little time consuming. Leaky pans, cracks and fallen centers are all things that can make a cheesecake go awry, but these tips for how to make a perfect cheesecake can help you avoid those pitfalls. The trick is in the little details. Be sure to take your time as you get comfortable with baking a cheesecake, use these helpful tips and make the best cheesecake ever!
10 TIPS FOR A PERFECT CHEESECAKE
1. Your cream cheese should always be room temperature.
This one is really all about making sure that your cheesecake isn't lumpy and that the ingredients combine smoothly. Cream cheese that is too firm won't mix well and will leave you with a lumpy mess, so it needs to be room temperature. In a pinch, take the cream cheese out of the foil wrapping, cut into smaller sections and heat for about 15 seconds at a time until softened.
Also, as far as cream cheese goes, the full fat regular stuff is going to give you the best cheesecake. More fat means more creamy, plus you don't have any fillers or anything that is made to replace fat. For your cheesecake texture to be on point, you don't want anything funky going on. Just real, good cream cheese.
2. Use a little flour or cornstarch.
I am a believer that a little flour makes a difference in a cheesecake. The starch prevents the egg proteins from over-coagulating, giving you a creamier texture and helping you prevent any cracks. If you are looking for a gluten free alternative, cornstarch will work too. Use half as much cornstarch as you would flour.
3. Add some sour cream.
While this one doesn't necessarily ensure your cheesecake bakes properly, I do think the added tangy flavor and creamy texture helps to give you that perfect cheesecake. If you absolutely must substitute it, greek yogurt is fine but the flavor is definitely a little different.
4. Don't over mix the batter or mix on too high speed.
Both over mixing and mixing on a high speed add more air to a batter. Too much air in a cheesecake can cause cracks a few ways. One – big air bubbles can rise to the surface and create cracks or little craters. Two – adding air causes things to rise and too much rise in a cheesecake isn't a good thing. It can rise too much or too quickly and then fall and crack.
This also goes back to number one about room temperature cream cheese. If your cream cheese isn't soft enough, you'll have to mix things more to get out the lumps. So again, be sure it's nice and soft. Also, more air tends to be added during the process of adding eggs to batter, so be sure to use a lower speed.
5. Use a water bath.
This is a step that most people want desperately to avoid, but trust me – the extra few minutes it takes are totally worth it. The benefits are many. First, the water bath generates steam that helps keep the cheesecake from drying out and cracking. Second, the water bath keeps the sides of the cheesecake from baking more quickly than the middle. It helps bake more evenly, also helping prevent cracks.
If you forgo the water bath, you are often left with a cheesecake that falls in the middle, browns too much around the edges and cracks. All are some of the worst culprits to a perfect cheesecake. Make the time for the extra step and you won't regret it!
6. Leak-proof your water bath.
It's such a bummer to go through all the trouble of baking a cheesecake and then have a soggy crust. As much as a springform pan is important to a great cheesecake, they are also the most unreliable pan ever. I've used many a springform pan and only ever found one that didn't leak (and the other 4 of the exact same pan did leak, this was just a lucky one). To leak-proof your water bath, check out my tutorial for how to set up your pan for a leak-proof water bath. Hint: I use a crock pot liner bag.
7. Use a springform pan.
Ok, so now that I've just said how unreliable springform pans are, I'm going to tell you that you still need one. To get that perfect looking cheesecake, you need a pan with removable sides. It's just the way it is. And if you're a lover of cheesecake, you'll use it plenty so it'll be a good investment.
8. Don't open the oven.
If you open up the oven during baking, you'll let out all the good hot, steamy air. The change in temperature can possibly cause the cheesecake to fall in the middle or bake unevenly.
9. Don't over bake the cheesecake.
In addition to the other things already mentioned, over baking a cheesecake can lead to cracks, much like with a custard pie. You'll know the cheesecake has baked enough when the edges of the cheesecake are well set and the inner few inches are set but still jiggly.
10. Let the cheesecake cool gradually.
When the cheesecake has baked enough and is set, but still jiggly, it's time for the gradual cooling process. I typically let a cheesecake sit in the oven with the door closed for about another 30 minutes. Then I crack the door of the oven about half way and let it gradually cool some more. This allows the cheesecake to cool slowly, while also finishing baking, which again helps avoid cracking. Just before putting the cheesecake in the fridge, you can run a knife around the edge to make sure it doesn't stick to the sides, or jiggle it around a bit to loosen it from the sides.
Now that we've got our best tips, here are a few other answers to common questions about cheesecakes:
WHAT GOES INTO A CLASSIC CHEESECAKE?
A typical cheesecake will include the following:
Cream Cheese
Sugar
Flour
Sour Cream (can sometimes be substituted for other flavoring components)
Vanilla Extract (or other flavoring)
Eggs
HOW TO MAKE CHEESECAKE CRUST
A classic cheesecake is going to have a graham cracker crust. Graham cracker crumbs are combined with some sugar and melted butter, then pressed into the bottom and up the sides of the pan.
The crust should be baked for about 10 minutes prior to adding the filling, to ensure that the crust holds together well. Get the recipe for the perfect graham cracker crust.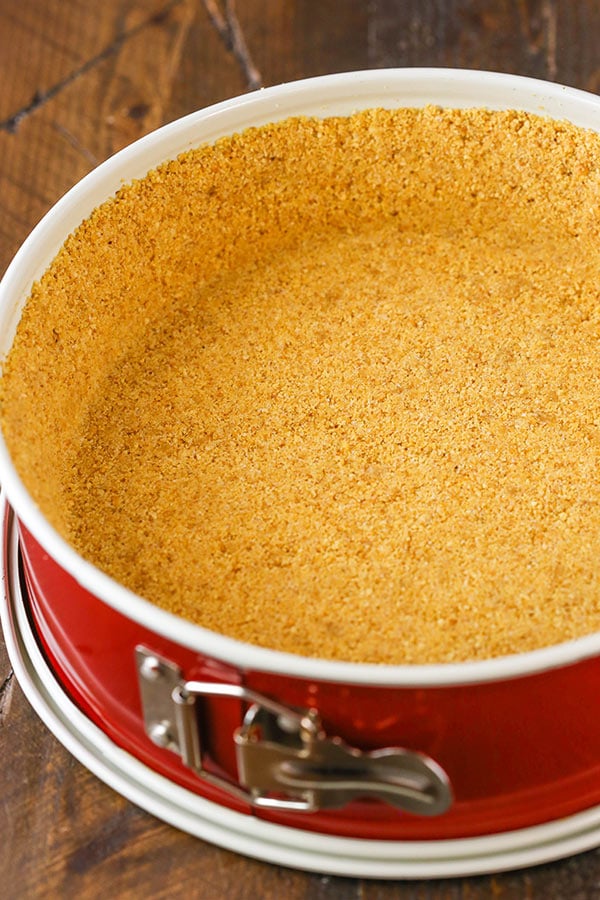 HOW TO MAKE CHEESECAKE FILLING
Making the filling of the cheesecake is going to be fairly straight forward. You want to combine the cream cheese, sugar and flour together until it's nice and smooth. As mentioned above, you don't want to over mix or mix on too high of a speed.
Next you'll add the sour cream and vanilla extract, then the eggs one at a time. Adding the eggs one at a time helps ensure that they incorporate well without having to over mix or use too high of a speed.
CAN I MAKE CHEESECAKE WITHOUT A SPRINGFORM PAN?
As I mentioned above, springform pans really are the way to go. In a pinch though, you could use a cake pan and line it with aluminum foil that you can use to "lift" the cheesecake out of the pan once it's fully baked and cooled.
The other alternative, though it gives you a different look, is a pie pan.
HOW TO MAKE A NO-BAKE CHEESECAKE
To make a no bake cheesecake, you'll often use ingredients that are very similar to a baked cheesecake, with the exception of the eggs. Some other ingredient amounts are likely to have been adjusted as well. Additionally, whipped cream is typically used to add volume and air to the batter that get's lost when the cheesecake doesn't have eggs and isn't baked.
See my recipe for the Best No Bake Cheesecake.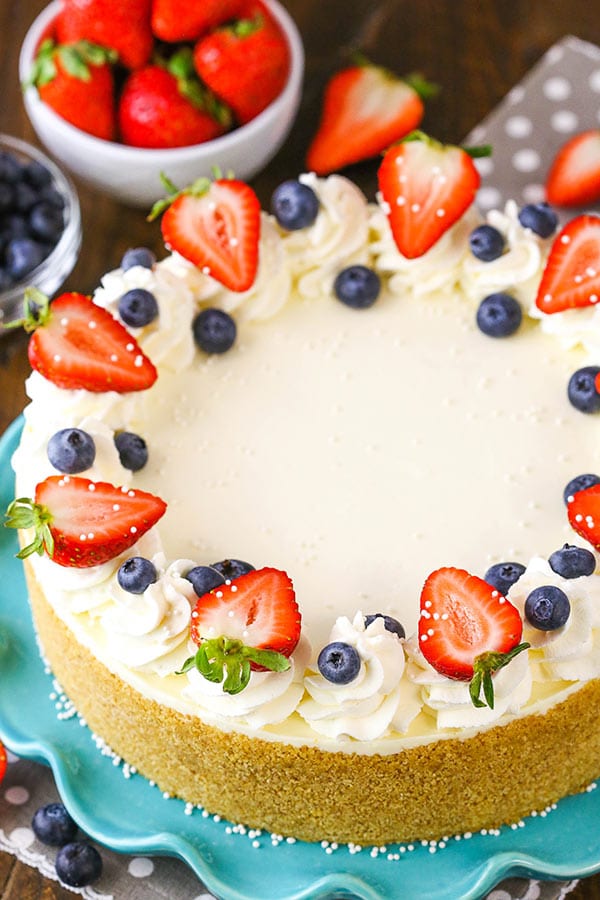 So I hope that answers all the questions you've ever had about cheesecakes! They can seem a little tricky, but once you get things down you'll never have trouble again. Cheesecake will become your new favorite dessert to make because it'll never fail and it's so versatile. You can make just about any flavor cheesecake, and I've definitely done my share of that.
Looking for cheesecake recipes to test your new knowledge with?
Check out these great cheesecake ideas:
Best Salted Caramel Cheesecake
Easy No Bake Chocolate Cheesecake
No Bake Oreo Cheesecake
Pumpkin Cheesecake with Cream Cheese Whipped Cream
Ultimate Oreo Cheesecake
Lemon Blueberry Cheesecake
Lemon Meringue Cheesecake
Banana Cream Cheesecake
Eggnog Cheesecake
Gingerbread Cheesecake
Frosted Animal Cookie Cheesecake
Boston Cream Pie Cheesecake
Kahlua Coffee Brownie Cheesecake
Chocolate Cheesecake
Vanilla Bean Cheesecake
Cannoli Cheesecake
Tiramisu Cheesecake
Snickers Cheesecake
Smores Cheesecake
Strawberry Shortcake Cheesecake
More easy cheesecake recipes