This post may contain affiliate sales links. Please read my disclosure policy.
These easy Gingerbread Cookies are soft, chewy and full of holiday goodness! A classic Christmas cookie recipe that's perfect for decorating.
When it comes to Christmas, Gingerbread Cookies are the best and one of my favorites. Cutout cookies in general are just so perfect for the holidays, whether it be these gingerbread ones or my Cutout Sugar Cookies. They are all easy to decorate and so festive. Not to mention that the decorating process is so fun with kiddos. It just makes things feel like Christmas.
I'm a little picky though when it comes to the texture of my gingerbread cookies. They MUST be soft and chewy! You don't want them to spread. And the texture needs to be right. Not to mention, the right amount of molasses and spices for great flavor.
I have to say that these gingerbread cookies turned out perfectly! I'm SO in love with them! A big new favorite recipe and so easy, simple to make and great for decorating.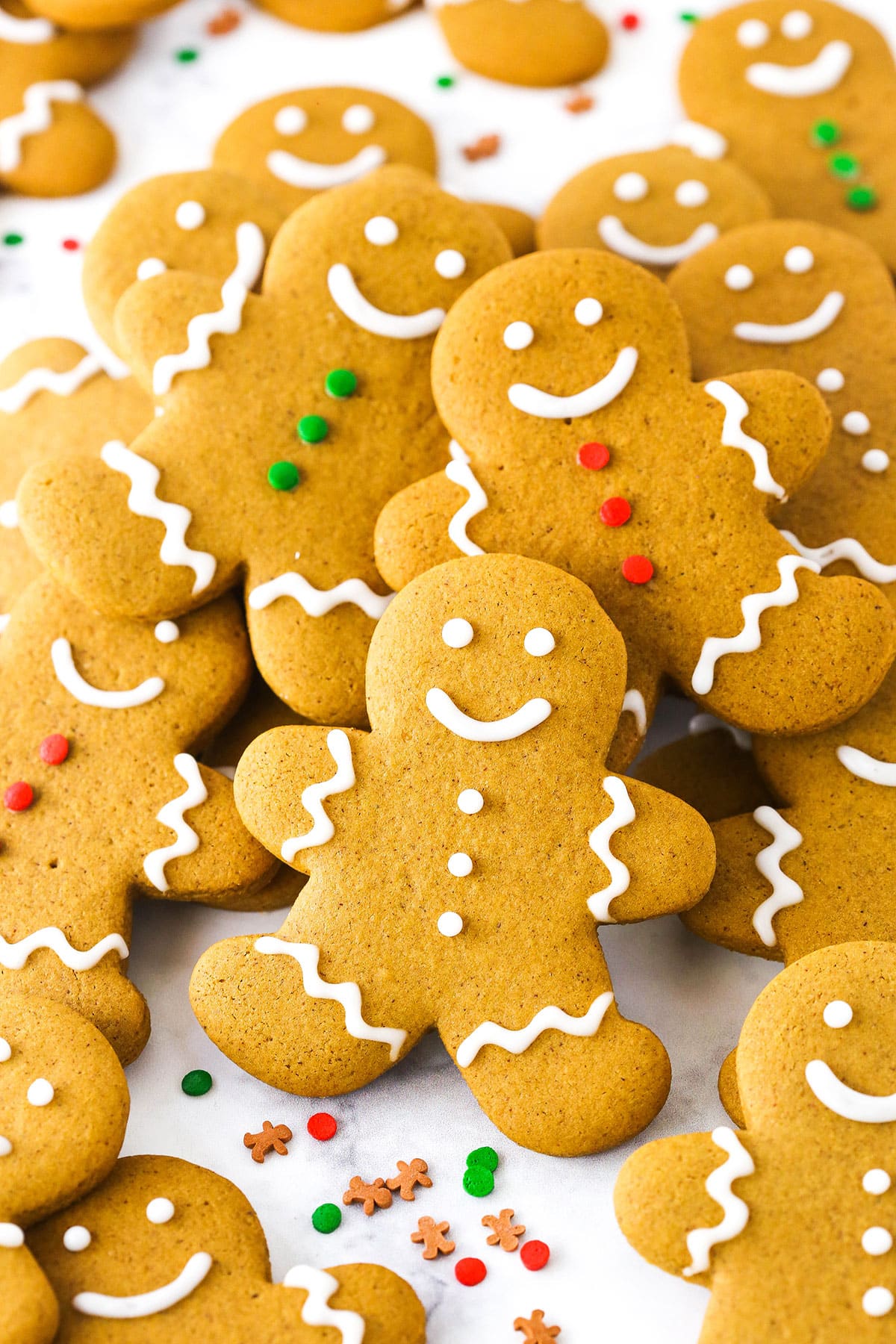 Flour – I use all purpose flour in these cookies.
Baking soda and baking powder
Spices and Molasses – For all the best flavor!
Dark Brown Sugar – For even more flavor!
Egg – Adds structure and chewiness to the cookies.
Butter – An important base for a cookie that gets creamed together with the brown sugar.
What kind of molasses do you use for gingerbread cookies?
I use unsulphured molasses in these cookies. This kind of molasses is made from mature sugarcane, which is clarified and concentrated. By contrast, sulphured molasses is made from sugarcane that isn't quite mature. As a result manufacturers need to add sulfur dioxide to the mixture when processing the immature sugarcane.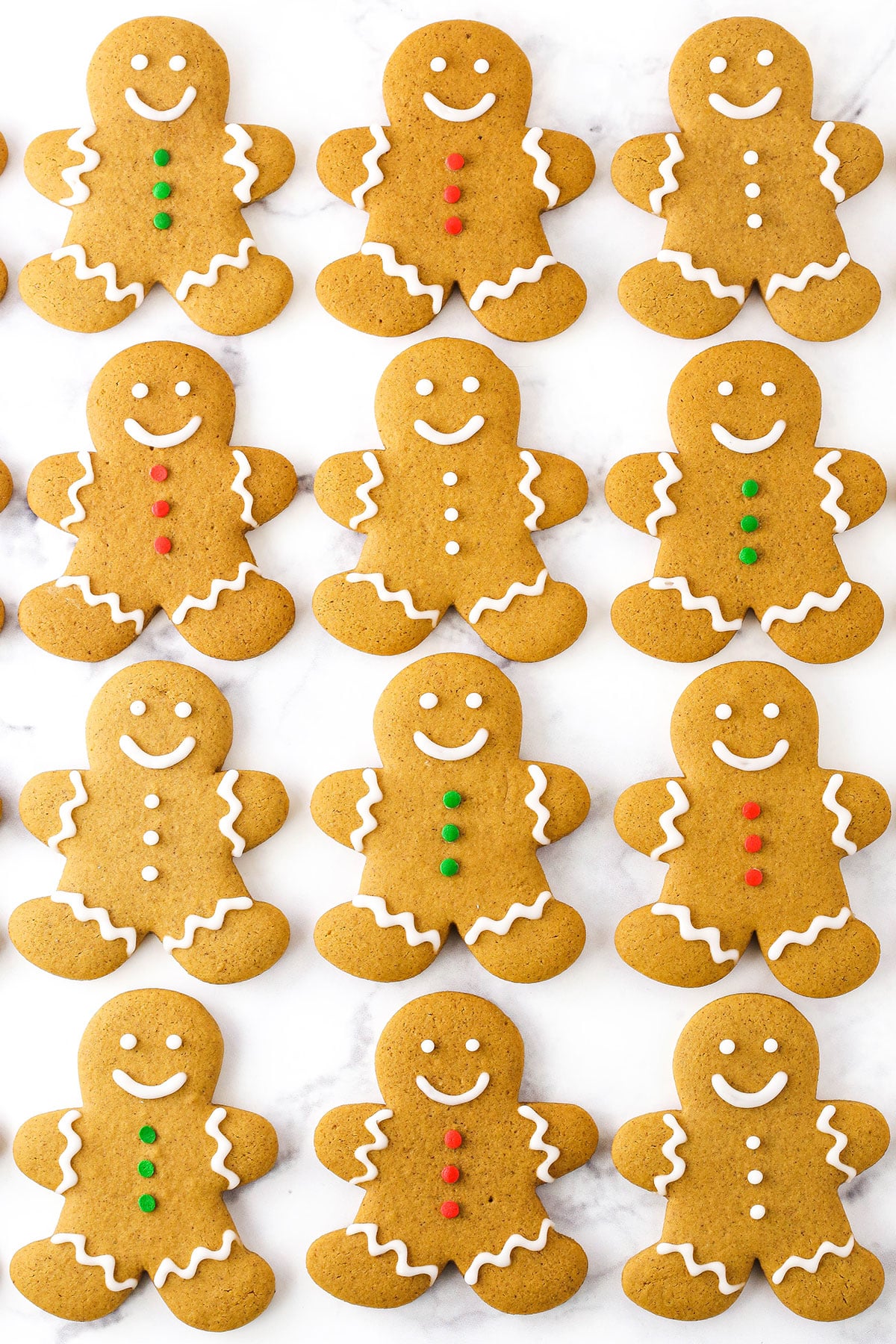 One of the best things about these simple Christmas cookies is how easy they are to make. Here's how to make gingerbread cookies:
Combine your dry ingredients. Flour, spices and some salt. Whisk 'em all together and set them aside.
Add the wet ingredients. Start by creaming the butter and sugar together, then add the egg and vanilla extract. Next up is adding the molasses and combining everything well. Add the dry ingredients and mix everything together just until combined. You don't want to over mix it.
Roll out the cookie dough. Divide the cookie dough into two halves and roll them out to about 1/4 inch thickness between two pieces of parchment paper (no flour-covered messes! yay!). It can help to mold the cookie dough into a little bit of a thick log before rolling it out so that it covers the parchment paper well. You'll leave the cookies on the parchment paper to bake.
Chill the cookie dough. Once your dough is rolled out, pop it in the freezer for about 7-8 minutes. The amount of time can vary a little based on your freezer's settings, but you want it to be nice and firm.
Cut out your cookies and bake them. With the cookie dough nice and firm, it should be quick to cut out the cookies using your favorite cookie cutters. Move the parchment paper with the cut cookies over to a cookie sheet and bake them.
Decorate. Once your cookies are baked and cooling, make the simple icing and decorate your cookies as you like.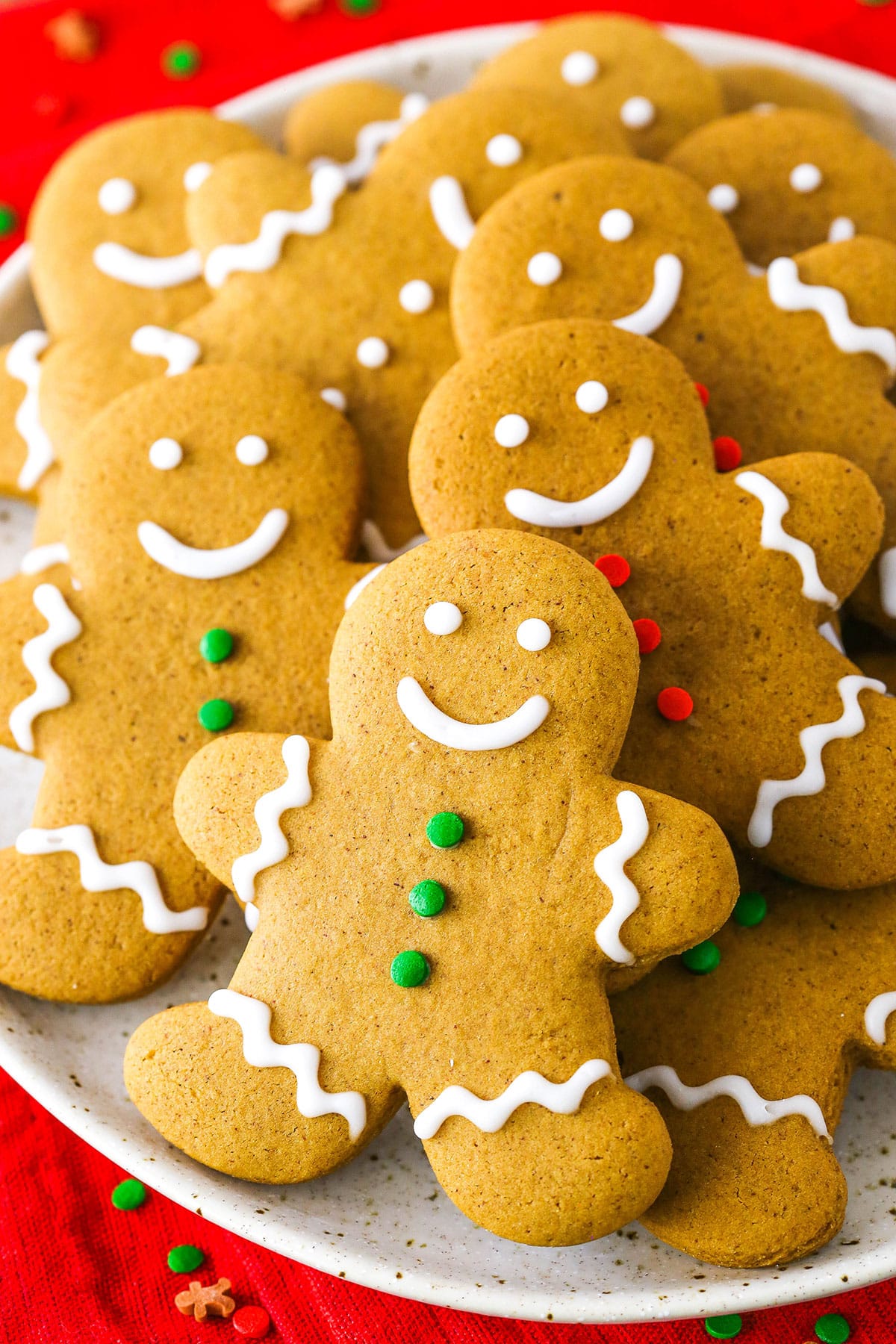 There are endless options for decorating gingerbread cookies. I've included a simple cookie icing below, but you could also use my royal icing recipe and see my tips for decorating using royal icing.
Beyond the icing, you can use sprinkles, color your icing or use little candies for adding eyes, buttons or other decorations. I used the red, white and green sequins from a pack like this one. You could even just dust them with powdered sugar for something super simple.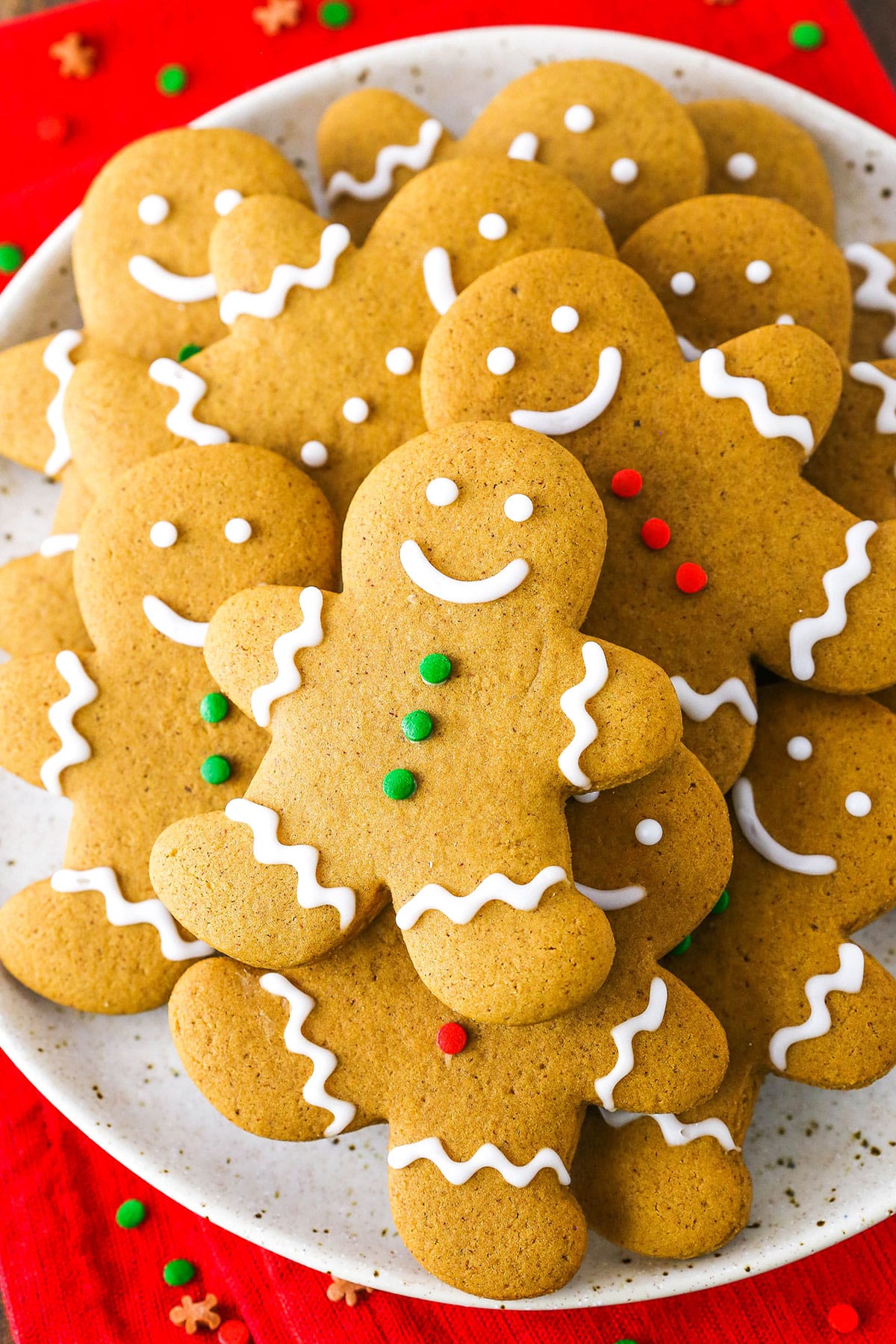 Measure accurately: I say this all the time and will say it again – the best way to measure this is with a food scale. A HUGE influence on how your cookies turn out is having the right amount of flour. Too much and the cookies will turn out dry. Too little and they'll spread too much. Even a difference of a couple tablespoons can make a big difference, especially if another ingredient is measured a little inaccurately (like the sugar – which adds more moisture and would make a cookie spread more as well).
Use both baking soda and baking powder: After testing these cookies with just baking soda and just baking powder, I can say that I much preferred the resulting texture of using both. Just baking powder made a cookie that was a little firmer, more cakey and dried out more quickly. Just baking soda made the cookies feel a little flimsy and just not the right texture I wanted. So I used mostly baking soda (which lends a more tender cookie that stays softer for longer), with a little baking powder (to be sure they had the best chewy texture).
Don't over bake: Your cookies are done when the edges are slightly crisp. It's tempting to bake them until the middles are also crisp, but this results in a hard, crunchy cookie. If you pull your gingerbread cookies just when the edges are done, then allow them to cool completely, you will end up with that ideal combination of soft and chewy.
Cool completely before decorating: Wait until your cookies have come to room temperature before decorating them. It's tempting to rush the decorating, but if you try and put icing on warm cookies it will just melt and slide off the sides of your cookie. Best to wait until they are cool and then go to town with the icing!
If the cookies are kept in a well sealed container, they should be good for 5-7 days. If you were to cover them in royal icing, it seals in the moisture and they'd probably be good for a few more days. You could also freeze them for up to 6 months, but it'd probably be best to freeze them in a single layer.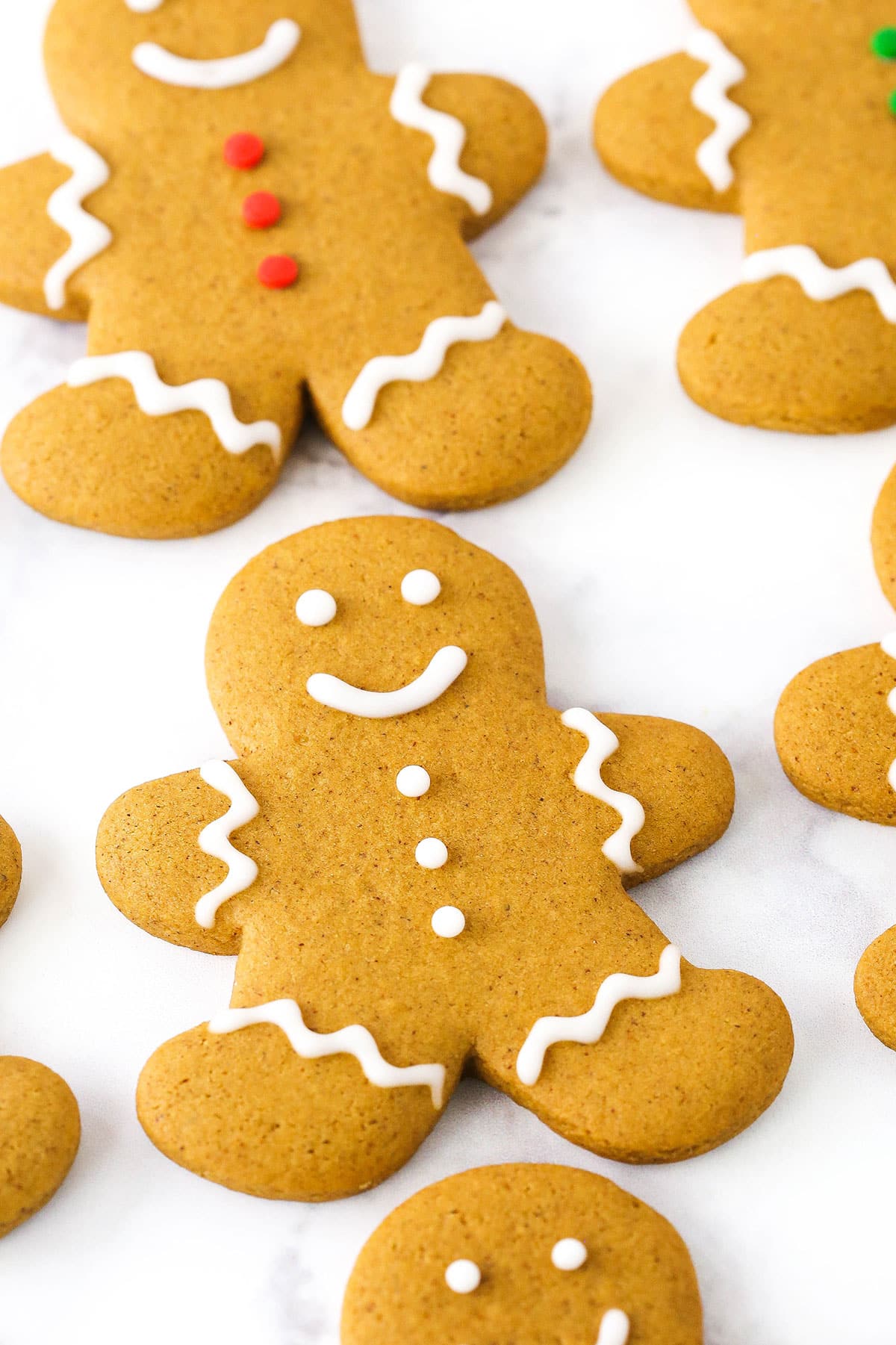 More Christmas Cookie Recipes:
Gingerbread Cookies with Eggnog Icing
Gingerbread Cheesecake Cookie Cups
Best Cutout Sugar Cookies for Decorating
Candy Cane Cookies
Classic Spritz Cookies
Classic Chewy Snickerdoodles
Easy Sugar Cookie Recipe
Reindeer Cookie Balls
Chocolate Peppermint Thumbprint Cookies
Christmas Tree Chocolate Chip Cookie Cake
[adthrive-in-post-video-player video-id="tHmzAtmC" upload-date="2019-12-02T10:00:00.000Z" name="Gingerbread-Cookies-BLOG" description="These Gingerbread Cookies are soft, chewy and full of spices and molasses! They are simple to make and perfect for decorating!" ]
Print
Recipe
Author:

Prep Time:

2 hours

Cook Time:

6 minutes

Total Time:

2 hours 6 minutes

Yield:

30-32 cookies

Category:

Dessert

Method:

Oven

Cuisine:

American
---
Description
These easy Gingerbread Cookies are soft, chewy and full of holiday goodness! A classic Christmas cookie recipe that's perfect for decorating.
---
Ingredients
Gingerbread Cookies
3 3/4 cups

(

488g

) all purpose flour

3/4 tsp

baking soda

1/4 tsp

baking powder

1 tbsp

ground ginger

1 tbsp

ground cinnamon

1/2 tsp

ground cloves

1/4 tsp

ground nutmeg

1/2 tsp

salt

3/4 cup

(

168g

) unsalted butter, room temperature

10 tbsp

(

140g

) packed dark brown sugar

1

large egg

1 1/2 tsp

vanilla extract

1/2 cup

(

172g

) unsulfured molasses
Easy Cookie Icing
1 1/2 cups

(

173g

) powdered sugar

1 1/2

–

2

tbsp water or milk

1 tbsp

corn syrup

1/2 tsp

vanilla extract
---
Instructions
1. Preheat oven to 350 degrees.
2. Combine the flour, baking soda, baking powder, ginger, cinnamon, cloves, nutmeg and salt in a medium sized bowl and set aside.
3. Cream the butter and sugar together in a large mixer bowl on medium speed until light in color and fluffy. You should be able to see the change in color happen and know it's ready.
4. Add the egg and vanilla extract mix until well combined.
5. Add the molasses and mix until well combined.
6. Add the dry ingredients and mix just until the dough is well combined. Dough will be thick.
7. Divide the cookie dough into two equal parts, then roll each out to about 1/4 an inch thickness between two pieces of parchment paper. It helps to shape the cookie dough into a bit of a log and then roll it out.
8. Transfer the parchment lined cookie dough onto a cookie sheet and into the freezer for about 6-8 minutes.
9. Remove cookie dough from freezer and immediately cut into shapes. You'll leave the cutouts on the parchment paper to bake them, so try to space them as they should be for baking with about an inch between each cookie.
10. While cookie dough is still cold, transfer the parchment paper/cookies onto a cookie sheet and bake for 6-8 minutes.
11. Remove cookies from oven and allow to cool on baking sheet for 3-4 minutes, or until you can transfer them. Transfer cookies to a wire rack to cool completely.
12. Repeat process with remaining cookie dough.
13. When cookies are baked and you're ready to decorate them, making the icing. Add the powdered sugar to a small-medium sized bowl, then add 1 tablespoon of water, the corn syrup and vanilla extract and whisk until well combined. It will be thick to start, just keep whisking together. Add additional water as needed, for it to come together. You want to be careful not to thin it out too much. You can always add more liquid, but you can't remove it once you add it. You want the icing to just be drip-able (and therefore pipeable), but not so thin it won't stay in place.
14. Add the icing to a piping bag fitted with a small round piping tip (I used Wilton tip 3) and decorate your cookies. Add sprinkles or other decorations, if you'd like.
15. Allow cookies to dry, then store in an airtight container. If well sealed, cookies should be good for 5-7 days.
Nutrition
Serving Size:

1 cookie

Calories:

138

Sugar:

10.9 g

Sodium:

72 mg

Fat:

4.6 g

Carbohydrates:

22.5 g

Protein:

1.8 g

Cholesterol:

17.3 mg
Keywords: gingerbread cookies, gingerbread men cookies, gingerbread cookie recipe, how to make gingerbread cookies, soft gingerbread cookies, christmas cookies, best gingerbread cookies